The Storyteller is Louise's first young adult/new adult second-chance romance. Originally, Tabs and Frank's story was going to be a freebie for her newsletter. Then the chance for the Ukraine Support "Love and Unity" Anthology came about, and Louise put it in that. Now, she has her full rights back and it was released on the 18th of May 2023.
This is also the first time Louise has ventured out to more than Amazon to sell her books.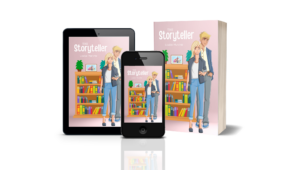 ~ Tabitha ~ Three years ago, days before my sixteenth birthday, I ran away. My step-father was a mean drunk, I had to leave to survive. I left it all behind, including him. Frank. The love of my life. My heart and soul. Now, I'm back. Back in the same place I fled from. Back where the memories threaten to swallow me whole. But I've changed. I'm not the same girl I used to be. I'm stronger. And holding in a secret that might be my demise…
~ Frank ~ When Tabitha walked out of my life with little more than a word, I was angry and intent to move on. Gone is the boy who was following the unhappy path my parents wished for me. In his place is a man striding towards my dreams and encouraging others to do the same. Then, she's back. Tabitha. The woman I gave my heart to and never got back. But Tabitha isn't the same girl either. She's hiding something. I want to be there for her, but I don't know if I can be this time. After her world crumbles around her, I'm afraid she'll leave again… I won't survive it this time.
This is one story that doesn't actually feature a single Scottish person and features around the area of the Black Country that Louise calls home.