& the website of Louise Murchie, a woman who finally got brave enough to self-publish her romance stories via Amazon Kindle. Thank you, Lockdown!
When I wrote Gone Dutch, I intended it to be a stand-alone second chance romance. The sweet with heat niche part came after when I found others writing the same genre as I was: the genre I couldn't find. Because I couldn't find what I wanted to read, I decided to create it.
I had planned out a romance series for afterwards, knowing that series sell better as it draws people into a world you've already taken the time to build. After all, your favourite author hasn't just written one book in that World, have they?
That idea got changed after some conversations with other authors who understood the art of storytelling better than I did, and I was persuaded to make Gone Dutch into a series.
Gone Dutch is fiery Shauna's romance story.
Predicted is quiet Ellen's second chance.
Rebound is playful Ruth's story and it certainly hits the second chance aspect!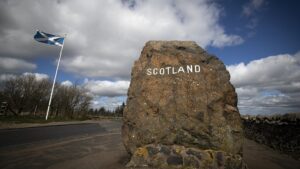 Another series was complete as of 28th March 2022 (The Tango Down Duology) which is grittier and more romantic suspense than before, with another duology in the same world being penned as Trodaiche releases.
Research is currently underway for a few others. However, the underlying theme with all of my books is this: love. Specifically, Sweet with Heat, Second Chance Romance, which involves Scottish people, mostly women. After all, write about what you know, right?
Given the global situation, don't we all require a little bit of romance in our lives? Even if it is only via the white pages of your Kindle.