This is a list of the sweet with heat second chance romance novels that I currently have available. All the links will point to Amazon.co.uk, so if you need it in your country, please just copy it from the .co.uk site & search for it in yours. It should be available as I've selected all avenues in every book.
Gone Dutch Series
Injured and hospitalised at his best friend's wedding, Harek wonders if love is even possible, or something he should just forget about. The feisty widow beauty that saved him from an attack pulls at his thoughts, but can they defeat the odds that seem to be stacked against him? This sweet with heat second-chance romance is explicit with a guaranteed HAE. Available on Amazon: http://mybook.to/GoneDutch
Shy Ellen meets protective Nick when Nick's nephew barrels into their life, and classic cars will never be the same again! Ellen is persuaded to take a chance by her teenage daughter, after all, what harm will a text do? As witnesses to an insurance scam, things heat up when Ellen becomes the offender's target of intimidation. Something Nick will not stand for. Can he capture Ellen's heart and keep her safe? This is a Sweet with Heat romance, suitable for 18+ with a happy ever after. Available on Amazon: bit.ly/GoneDutch2
Novella's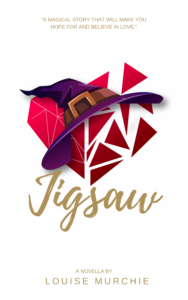 Jigsaw is a novella I wrote back in 2003; just after I was married. It was written on a Windows 3.1 machine. For those of you with memories as long as mine, grin at the pain that I went through to write 45k in Word and not have it corrupt on you! I came across it again in some archives in late 2020.  Using the new skills I'd acquired in writing the Gone Dutch novels, it received a quick edit and re-read. Then it was sent out as a thank you for my Newsletter sign-up. You can still download it today, it's free!
It's more paranormal with a touch of modern-day to it (though, it features a 56k modem that might set your mind reeling!) so if you like that kind of thing, feel free to download it.