This page contains the synopsis and more information about the duology of the #tangodownduet
Dìonadair
Defending my lovers is second nature. Surviving one being taken might just end me.
Blythe Grievson: I'm a stubborn, ex-military Italian/Scot. When I start working for a pair of brothers who bring me to Nirvana, I find I don't have to choose. They're being targeted and getting involved with them brings me into their assailants' crosshairs. Whoever it is, they're a fool. I will fight to keep what they've given me, even if it means sacrificing myself.
About
Dìonadair (djon-ver) Dìonadair is a romantic suspense, second-chance set in Edinburgh, Scotland. If you like realistic, gripping romances with kick-ass heroines, the why-choose genre (or an action thriller meeting 50 Shades) you will love this Scottish, romantic adventure.
Background
Having survived square bashing, two women meet at Officer's training, forming a friendship for life – Blythe Grievson and Annie Holmes are as different as they are similar. 
Blythe Grievson is Annie's best friend, different in nature but just as fierce and determined, more the thinker, the one in the background. She's a good investigator, a typical Defender (Dìonadair). The need to be loved in more than one way at the same time is something Blythe thinks she'll never find.  Rekindling a one-night stand brings her within reach of two very different brothers. When their company comes under regular attack, Blythe slowly starts trying to put the disjointed pieces together. Can she save her lovers and their company?
Trodaiche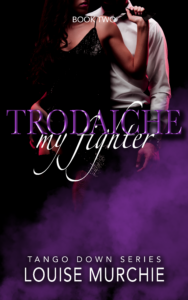 My past was soul-destroying.
Annie Holmes: I've spent the last eight years in survival mode, living on a vow I made to myself: Never allow those with money to make me powerless ever again.
I'm a warrior.
I don't need an unsupportive, uncaring, low-life in my world. I'm better than that. I tackle every challenge thrown at me head-on. My daughter and I are doing just fine, thank you very much.
I'm a Trodaiche; a fighter. I protect those who can't defend themselves and bring corrupt politicians, sex traffickers, and criminals to justice. They fall to their knees at my feet and tremble at my power.
Called to rescue a runaway becomes far from business as usual: I encounter him. 
Will Tony be my salvation, or will he leave us both in ruins?
About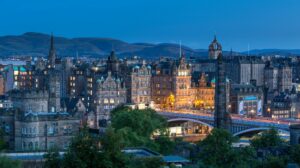 Trodaiche (tro-ditch) is the second of a romantic suspense duology. It's set in Edinburgh, Scotland with mature characters and contains references to domestic violence, gangs, and kidnapping. It tells of the friendship and love of two ex-military women and is the second and final part of the #tangodownduet.
Background
Annie and Blythe have been each other's right-hand women for nearly two decades. While Blythe has finally found love, Annie firmly believes her chance was not really much of anything.
Called to find a runaway in Glasgow, Annie encounters Tony McAully, in trouble and needing medical help. Doing what she can before calling on her friend to find him, she gets her charge to safety. Tony catches onto the fact he was helped and he wants to at least say thank you. When a night at Eastside, which he partly owns, reveals who helped him, he's smitten. Annie is not as sure. Can her warrior's heart be captured by someone she stereotypes against?