Details about the duology that is; #TangoDownDuet.
This page contains the synopsis and more information about the duology of the #tangodownduet
Dìonadair
In a web of mysteries, she must protect the men she loves. Can she unravel the threads and hold danger at bay?
Marcus McGowan: one night is all we had – one night filled with fire and passion that I never thought would be repeated. Years later, luck has our paths crossing once again. My brother and I are her new employers, and it doesn't take long for business and pleasure to mix when she discovers we're being threatened. We use the company's skill to track down our assailants, but it's Blythe that draws their attention so my brother can do what he does best; extract me from the situation. Blythe is our Dìonadair, our Defender, but she has become so much more than that. She has become the woman that we both love, our everything.
Blythe Grievson: Whoever is threatening my men and our company: is a fool. They didn't factor in my tenacity, my need for answers, or my skills into their equation. These men have captured my heart, given me a Nirvana that I never thought existed. When I promise to defend them, a pact is made that I cannot let anyone break.
About
Dìonadair (djon-ver) is the first of a romantic suspense duology. It's a second chance romance set in Edinburgh, Scotland. It's a story of mature characters that begin a ménages à trois/polyamorous/triad relationship. The focus is on the friendship, and finding love later in life, of two ex-military women and is the first part of the #tangodownduet.
Having survived square bashing, the two women meet at Officer's training. The two new military police officers form a friendship for life – Blythe Grievson and Annie Holmes are as different as they are similar. 
Blythe Grievson is Annie's best friend, different in nature but just as fierce and determined, she is more the thinker, the one in the background. She's a good investigator, a typical Defender (Dìonadair). The need to be loved in more than one way at the same time is something Blythe thinks she'll never find.  Rekindling a one-night stand brings her in reach of two very different brothers. When their company comes under regular attack, Blythe slowly starts putting the disjointed pieces together. Can she save her lovers and their company?
Trodaiche
He's rich; the type she avoids. She's an earnest warrior; the type he craves. When the two collide, will he fight for her heart?
Anthony McAully: she's a warrior if I ever saw one. On a cold winter's night, she helped me live, though she never asked for anything in return. Not even to meet me. I forced the issue, unable to leave it as a chance encounter. I met her, loved her, admired her fighting spirit and fell in love with her ability to give safety to others.
She'll take on corrupt politicians, sex gangs and their support network, helping the weak and the powerless. For the Trodaiche she is, why won't she fight for herself?
Annie Holmes: I deal in action, not emotions. Give me a puzzle to solve, a situation to deal with and I flourish. Those with money, who make people jump through hoops for entertainment? Walk on by. I don't need them, their influence, their control in my life. I need someone who will be there for me, for my little girl, emotionally and physically. Someone so not like her father. Any chance of that has gone. Who is going to want to take on someone like me, a fighter, a survivor, a warrior; a woman who can bring trouble to the door and send it packing back to Hell?
About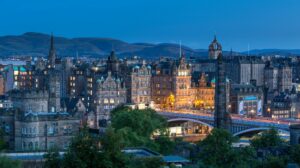 Trodaiche (tro-ditch) is the second of a romantic suspense duology. It's set in Edinburgh, Scotland with mature characters and contains references to domestic violence, gangs, and kidnapping. It tells of the friendship and love of two ex-military women and is the second and final part of the #tangodownduet.
Annie and Blythe have been each other's right-hand women for nearly two decades. While Blythe has finally found love, Annie firmly believes her chance was not really much of anything.
Called to find a runaway in Glasgow, Annie encounters Tony McAully, in trouble and needing medical help. Doing what she can before calling on her friend to find him, she gets her charge to safety. Tony catches onto the fact he was helped and he wants to at least say thank you. When a night at Eastside, which he partly owns, reveals to him who helped him, he's smitten. Annie is not sure. Can her warrior's heart be captured by someone she stereotypes against?