This is a list of the second chance romance novels that I currently have available. All the links will point to a global book link. Just drill down to select the format you need, as I've selected all avenues in every book.
They are listed by series to make it easier to find them.
(The Soul Song Duology novels will be out in 2023!)
Novella's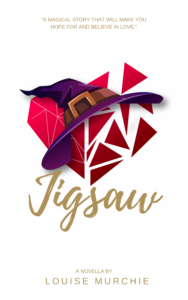 Jigsaw is a novella I wrote back in 2003; just after I was married on a Windows 3.1 machine. For those of you with memories as long as mine, grin at the pain that I went through to write 45k in Word and not have it corrupt on you! I came across it again in some archives in late 2020. Using the new skills I'd acquired in writing the Gone Dutch novels, it received a quick edit and re-read. Then it was sent out as a thank you for my Newsletter sign-up. You can still download it today, it's free!
It's more paranormal with a touch of modern-day to it (though, it features a 56k modem that might set your mind reeling!) so if you like that kind of thing, feel free to download it.